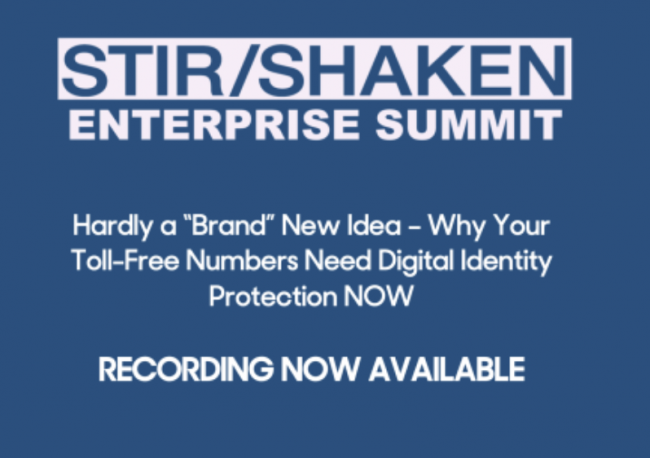 Recently, at SIP Forum's 2022 STIR/SHAKEN Enterprise Summit, members of the Robocall and Call ID Spoofing solutions ecosystem convened to learn more about issues critical to the reliable and successful deployment and operation of STIR/SHAKEN in today's IP-based network environments, as well as associated topics related to call authentication/Secure Telephone Identity (STI). 
To help drive meaningful conversation around the benefits of understanding digital identity and the role phone numbers play in establishing trust in a hyper-digitalized world, Chris Wendt, Vice President, Systems Engineering, at Somos, Co-Chair of the IP-NNI Task Force, and Director, SIP Forum; and Jaime Zetterstrom, Vice President, Product Management at Somos, presented the following webinar, which is currently available to view on-demand:
 
Hardly a "Brand" New Idea –
Why Your Toll-Free Numbers Need
Digital Identity Protection NOW
Knowing the critical role that Toll-Free Numbers play in developing – and at times defining – brand identity, it's essential that enterprises are vigilant in safeguarding their valuable numbering assets against spoofers, scammers and other bad actors. And while in years past, businesses only had to patrol their phone and mobile identities, today, thanks in large part to the monumental increase in online transactions, they must also be hyper-aware to protect their digital identities.
Specifically, Chris and Jaime discussed:
How to identify a brand's numbering-related digital assets 
How authentication and validation help secure Toll-Free Numbers
What a DNO (do not originate) list is and why they are significant
What the telecom industry can do to maintain the integrity of voice and messaging communications
Register now to view the on-demand recording of the session.