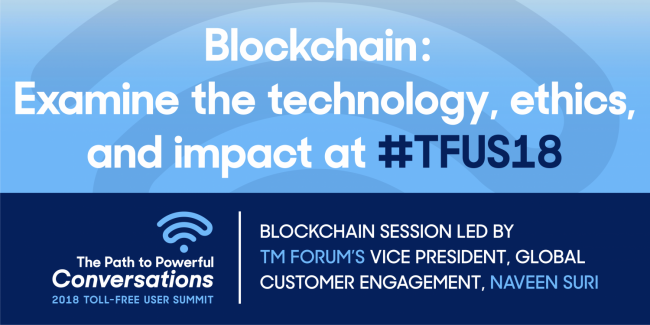 With its focus on trust and transparency, blockchain has quickly emerged as one of the hottest technologies out there. It's been widely hyped as well as highly discussed as being the future of online transactions. So what does this technology look like and why should the Toll-Free industry take notice?
Join us at the 2018 Toll-Free User Summit where industry expert and TM Forum's Vice President, Global Customer Engagement, Naveen Suri, will examine the technology, ethics, and impact of blockchains as well as how it can be applied to different industries. Whether you are excited or worried about blockchain's potential, the Blockchain the Latest Emerging Trend breakout session will help you to explore this emerging technology and better understand its advantages and drawbacks.
As a leading global industry association that drives collaboration to digital service providers and their ecosystem of suppliers, the TM Forum and Naveen specifically are well positioned to help the Toll-Free industry understand whether or not blockchain is in our future. As with any new and emerging technology, we are excited to help navigate the industry through the evolution and maturation of blockchain.
Register now to join our industry experts, your peers and more at the 2018 Toll-Free User Summit October 9-11 in Las Vegas!
Want to learn more? Follow #TFUS18 on Twitter for the latest updates and conference happenings.